MP Report – Parliamentary Internship Programme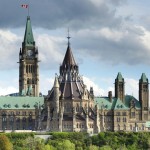 Are you ready to start your career on Parliament Hill?
Each year the Parliamentary Internship Programme selects 10 young professionals from across Canada to do paid, full-time work in the offices of Members of Parliament in Ottawa. The Interns pick their own placements and work for two Members of Parliament: one from the Government and one from the Opposition. While in the offices, the Interns take on any the same tasks as anyone else in the office, from office administration to Committee preparation and everything in-between!
This comprehensive work-study program employs recent university graduates, allowing them the opportunity to meet with the country's leading academics and policymakers. The Interns have many exciting opportunities beyond their offices, including writing an academic research paper; organizing and participating in work-study trips to Europe, the US, and different parts of Canada; and meeting with the country's leading federal, provincial, and municipal policymakers.
This highly regarded Programme began in 1970 as a training opportunity for exceptional young people interested in political work. Over the last fifty years, the Programme has hosted over 500 young people who went on to be Members of Parliament, Senators, Ambassadors, academics, public servants, political staff, and more. The Programme is designed to provide an in-depth understanding of Parliament and welcomes people from all different backgrounds who can bring unique perspectives. Most importantly, it provides the opportunity to make lifelong friends with young people from across Canada and around the globe.
There is no better way to gain a deep understanding of the political issues of the day than being able to experience them from all sides. I would encourage any recent graduate who is interested in experiencing Parliament firsthand to apply, regardless of their political experience.
Applications are available at www.pip-psp.org and are due January 31, 2023.