Speech – 2016.06.13 – Bill C-223 – Organ & Tissue Donation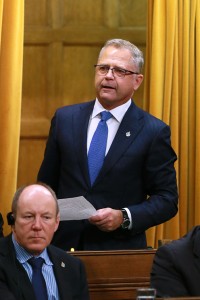 C-223 – National Organ Donor Registry
June 13, 2016
Mr. Len Webber (Calgary Confederation, CPC): Madam Speaker, I am honoured to rise to speak in support of Bill C-223, an act to establish a Canadian organ donor registry and to coordinate and promote organ donation in Canada.
First, I would like to thank my colleague from Edmonton Manning for bringing forward this private member's bill and recognizing the importance of organ donation. I listened intently to the member's speech at second reading back in April and I have to say it was a very passionate and moving speech.
What you did for your son Tyler was incredible. You, as a living donor, I consider a hero.
Madam Speaker, I am very pleased that Tyler is doing well today.
Madam Speaker, through the speaker, I thank and praise the hon. member for Kitchener—Conestoga for sharing his emotional experience resulting from a tragedy which occurred on May 2, 2011 in which he lost his wife, Betty, and for supporting Betty's wishes to allow her organs to be donated after her neurological death–a selfless and incredible gift–because she had indicated that she wanted to give them in order to save the lives of others.
Three years ago, I had the privilege to also bring forward a private member's bill on organ donation as a member of the Alberta legislature.
The intention of the bill was to create a provincial organ and tissue donation agency. The bill progressed, was adopted into a government bill and, eventually, passed unanimously by all members of the House.
The bill incorporated four key pillars, four components to its content.
The first pillar was to implement an awareness campaign strategy; a strategy to have advertizing, billboards, literature, and bus benches, encouraging people to talk to their families to discuss their wishes in the event of a tragedy where their families may have to choose whether or not to donate their organs.
The second pillar was to implement an electronic donor registry.
The third pillar was to implement the training of health care staff throughout the province of Alberta so that every hospital would have trained staff, ready on a moment's notice to take advantage of an opportunity that may exist to procure organs in order to save lives.
The fourth, and final, pillar was to implement the intent to donate expressed on a driver's licence.
At the time, in order for people to indicate their wishes to donate organs, they had to sign on the back of their health care card. I found that unacceptable in today's world.
The key to making a registry successful is to make the decision easy to make and easy to execute.
I strongly support the idea of getting one's consent to donate organs when someone obtains or renews a driver's licence or a health care card. However, we could even go further and ask it as part of a passport process or other formal registration process. Imagine if we could get the option to declare a person is a willing organ donor on their income tax return form?
Today, Alberta currently has over 250,000 people registered in its newly-implemented organ donation electronic registry, and the numbers continue to grow.
Just recently, a team of experts at the University of Alberta Hospital and Mazankowski Alberta Heart Institute made history by completely a record 31 organ transplants in just 10 days, indicating the progress that we have made in Alberta. However, there is a lot more work that needs to be done.
I have visited the University of Alberta Hospital transplant ward and I have seen the results. I met numerous people who have received the gift of life. What a moving experience it was. The emotions, the tears, the gratitude these people had upon awakening, knowing that they had received a gift. It is something that I will never forget.
I have seen the need for a coordinated organ donation strategy first-hand; but, I have also seen the results of a unified government that puts aside political stripes to support a positive cause.
This is not about partisan politics. It is about saving lives. I can only imagine the positive outcome of what a coordinated national effort could accomplish.
I currently, along with other members in this House, sit on the Standing Committee on Health. Our team is currently studying the issue of national pharmacare. This initiative is not about overstepping the boundaries of our provincial and territorial counterparts. It is about leveraging our strengths as a country to improve the system of pharmacare for all Canadians.
Why can we not do the same thing with our organ and tissue donation procurement system here in Canada?
Our Standing Committee on Health has already agreed to look into the issue of organ and tissue donation here in Canada. It is only appropriate that we send the bill we are currently debating here in this House, Bill C-223, to that committee to form part of the study and discussion.
It is not just our constituents and some politicians asking for this, but it is also experts in the field of transplantation right here in Canada, experts such as Dr. Lori West, director of the Canadian national transplant research program. This is a national research network funded by the Government of Canada, dedicated entirely to increasing access of Canadians to transplantation and improving transplant outcomes. She is also the director of the Alberta Transplant Institute and chair of Canada research in cardiac transplantation.
Dr. West wrote all of us in this House. Just last week, she wrote to us all and said:
We believe that we have the opportunity to use this Bill C-223 as the beginning of a national conversation toward improving organ donation in Canada. We strongly encourage your government to send this bill to the Standing Committee on Health where we can work together with patients, researchers, health charities and government agencies to create a framework that will improve the national system to increase and support donation and transplantation.
In April of this year, the hon. parliamentary secretary to the Minister of Health said, right here in this House:
Our government recognizes that organ and tissue donation and transplantation system here in Canada. Collaboration, consultation and engagement with the provinces and territories, as well as key stakeholders are necessary to address the complexity of the changes that are required in this system.
She says it is necessary to collaborate, consult, and engage with the provinces and territories, and key stakeholders. So why do we not send this bill to the health committee?
The hon. member and the hon. parliamentary secretary should talk to their caucus, talk to their colleagues, talk to the Minister of Health, and encourage support for this bill to go to committee so it can form a critical part of that deliberation.
In closing, rather than continuing to work in silos, our provinces and territories must work together under a national umbrella in order to improve organ donation in this country. We know registries work for organ and tissue donation. We also know that the larger the pool of donors, the better. It only makes sense that we combine our efforts and truly develop a national database that will help achieve our goal to save lives. Even if we are able to save one life from our efforts, it will have been worth it.
I implore my colleagues here in this House to vote to send this Bill C-223 to the Standing Committee on Health, where the committee has already agreed to study this issue.
---
---